How to install
Step 1.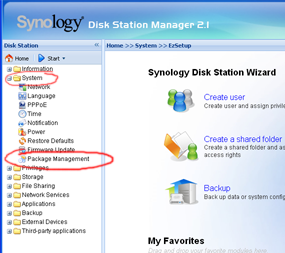 Login into the Disk Station Manager (firmware DSM 2.0-0722 or higher), using your admin account.
On the left pane, select "system" and under the folder, "package management" (or equivalent in other languages).
---
Step 2.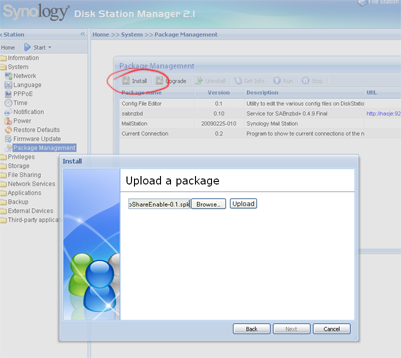 Select
install
to install a new package (
do not use "upgrade" !
) and select the package you want to install by "browse" and after that "upload". Click on next.
---
Step 3.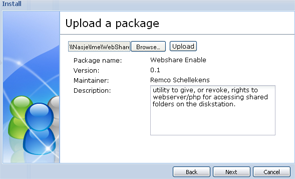 Check to see if this the right package, stay clicking 'next'. If you have multiple disk, you have to choose which disk you like to install it on (doesn't matter for all packages).
---
Step 4.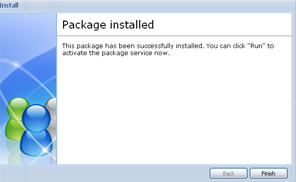 If everything went ok, you should see this window.
---
Step 5.

If you installed a package that will run as a
3rd party package
, you might want to press "reload" or "refresh" in your browser toolbar. Under Package Management, you will see that the package is installed, don't mind the status "stopped", it isn't a service, only an installer of the package. You can get to the interface of the newly added package via the left pane. You will see "Third-party applications" folder on the left. Under this folder, you will see the package you have just installed. Click on it to use it (just like all the other options).
---
Step 6.

If you installed a package that will run as a
Service
, it might run from the Package Manager itselves. Using the buttons "Start" or "Stop" you are able to start and stop the service and via the "url" you can get to the management interface of the service (if there is any).
---