SABnzbd+ 0.5.4
This program will install and run the latest version of
SABnzbd
on the synology diskstations as a service. SABnzbd is a fully automatic newsposting downloader, including packing out rars or zips and checking them against par files.
To run this package, install it and press 'run'. Now you have two options:
Click on the admin page link in the packagemanager
or

Point your browser to http://ip-adres-of-your-diskstation:9200/

Important: configuration of directories
Beware that default configuration points to an unaccessible directory from the outside. If you are uncertain how to configure SABnzbd+ directory names needed in SABnzbd+, please read my explanation at
explanation on my blog
or postings/thread on the
English
or
Dutch
Synology forum. If you still don't know how to configure directories, just choose the share you want to use in the
Sabhelper
.
File Permissions
You might want to configure file permissions to
777
, this way, every directory and file that will be created by SABnzbd will be readable & writable for everyone. In old versions, this value was automaticly given when started, however, since 0.5.4 this has to be manually entered.
New: Saphelper
Included in the package is a 3rd party tool "sabhelper". With this program, you will be able to up- or downgrade the SABnzbd+ version on your own by uploading the sources file of SABnzbd+. Also, the program will "fix" problems with downloads in wrong directory, filenames or filerights, for all users who don't know how to do this via the commandline and made a mistake configuring SABnzbd+.
Note: SABhelper+ uses Ext-js version 2 libraries. In some cases, this library isn't present (firmware 3.1 or higher) or not installed (firmware < 2.2). In that case install the Extjs package after you have installed SABnzbd.
Release Notes: See
blog posting
about it
This package includes python and all modules and programs to run sabnzbd. It will
not
interfere with any other SABnzbd installation (including the 0.4.12 version) or any other packages, either 3rd party or ipkg 'optware'. All programs are installed under one unique separate directory and can be removed by pressing 'uninstall' from the packagemanager.
Download:
Pick the right package for your model and unzip the file after download. Apply the ".spk" file into packagemanager of your diskstation. If your model isn't listed, and still a recent one (x07..x10), please email me.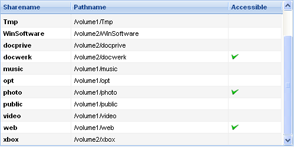 WebShare Enabler
This program makes it possible for php scripts running on the webserver to have access to the shared directories. Normally, most shares cannot be reached out of security, however, in some cases, like search engines or file explorers, you will have to override the PHP settings to allow actions on those directories.
It will accomplish this by adding to or removing sharedirecties from the 'open_basedir' directive in PHP.ini of the (user-) webserver. It will restart the webserver to make the new PHP.ini settings effective.
Use the package installer to install the program. It is not a service, but a 3rdparty package containing only scripts to install an cgi-script. Therefore, any start or stop command or status will not make a lot of sense.
It will modify
/usr/syno/etc/php.ini
and will restart the 'user' http server if a change is requested.
In case of corrupted PHP.ini files, two 'hidden' options via url are available:
/webman/3rdparty/webshareenable/index.cgi?name=rescue will place the first php.ini file back before program was used.
/webman/3rdparty/webshareenable/index.cgi?name=default will place the default Synology php.ini file back.
Architecture:
All
Download:
WebShareEnable-0.2-spk.zip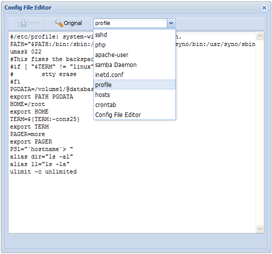 Config File Editor
This package will add the 3party program 'Config File Editor' to your admin page. Using this utility, you will be able to edit configuration files on your DiskSation without the need for learning VI or moving files from and towards your DiskStation. When first started, it will copy existing configuration files als a backup. Therefore, if you messed up a configuration file, you can always hit the 'orignal' button to get the first backup back.
It is also possible to edit the configfile of this program
itselves
. By doing this, you are able to add your own text/configfiles to this program.
Keep in mind that altering configfiles can be a risky business. In worst case, you could make your DiskStation unaccessible, which forces you to reload the firmware again.
Keep in mind that in order to work with the new configfiles, most of the times, the service or even the whole DiskStation has to restarted. If you change the configfile of this program, you have to reload the page to see the effect.
Architecture:
All
Download:
ConfigFileEditor-spk.zip
(1MB)
Ext JS 2.2
The latest versions of Synology firmware -version 2.1 and higher- will have
Ext js 2
already installed, however, those who can't get a recent update for there firmware, like the DSx06 models, might need this library for 3th party software who rely on this.
This package will install the Ext JS 2.2 javascript libraries. There is no need to "run" it from the packagemanager, installing the package is all that is needed. If sabhelper is on the system, it will alter the library path to this ext2 library, to "fix" broken ext-2 install in firmware 3.1.
Architecture:
All
Download:
extjs2-0.2-spk-zip
(0.5MB)